Back to All
LGBTQ+ Mental Health Care & Community Resources
June 08, 2023
Sheri Tiziani, LCMHCS, Primary Therapist
Ren Brown (they/she), LPC, LCMHCA, CCTP, ISTT, EMDR-Trained Primary Therapist
Welcoming Pride Month 2023
As we enter Pride Month, we believe it will be helpful to highlight some of the unique challenges members of the LGBTQ+ community face regarding mental health, and offer ways that organizations can be affirming and embody a culture of acceptance, without having to even use spoken words. In The Trevor Project's 2022 National Survey on LGBTQ+ Youth Mental Health, they found that 60% of youth (defined as ages 13 – 24) wanted mental health care but did not receive it. Reasons cited include general concerns, such as fear of discussing their mental health struggles or fear of treatment not working and, unique to the LGBTQ+ community, include reasons specific to their sexual and/or gender identity. Twenty-six percent of LGBTQ+ youth reported they were scared of their identity being misunderstood, while 43% said they were scared of not being taken seriously because of their identity.
Though there are many reasons we take the time to celebrate Pride Month, helping those who feel less comfortable feel more comfortable and welcomed is one of the number top priorities. All year long, but particularly in June, we are celebrating the strength and success of our lesbian, gay, bisexual, transgender and queer (LGBTQ+) clients. HopeWay is proud to be a safe and welcoming resource for the LGBTQ+ community in Charlotte and across the nation.
"I mainly came to HopeWay to work on my OCD and anxiety. While I was there, Art Therapy really allowed me an opportunity to open up about my identity. It helped me explore why I should be proud of who I am and where I am as a trans person. Art Therapy was super impactful for me. After leaving HopeWay, I created an art website for LGBTQ and neurodiverse people." – Kailas (former client)
What is Mental Health?
Mental health is a state of psychological well-being that impacts all humans. It involves how we think, feel, and act as we cope with life, how we manage stress; interact with others, and how we make life decisions.
LGBTQ+ Mental Health
Members of the LGBTQ+ community often suffer from poorer overall mental health compared to heterosexuals and may:
have to cope with stigma, discrimination, or violence;

have negative feelings about themselves because of their sexual orientation or gender identity;

feel isolated or lonely; or

feel that they must hide their sexual orientation or gender identity.
Mental Health Concerns
While every person's experience is different, some of the most common mental health concerns are depression, anxiety, post-traumatic stress disorder (PTSD), substance abuse and thinking about or attempting suicide.
Sheri said that as a primary therapist at HopeWay, she has gained valuable insight about the unique struggles of the LGBTQ+ community and how HopeWay can offer support and make a difference. Through her experience working with this community, she has seen how incredibly strong and resilient LGBTQ+ individuals are as a result of navigating a world of set norms and expectations.
Trauma Informed Treatment
They experience significant hardship and often trauma. The trauma-informed treatment we incorporate at HopeWay is grounded in approaches that are sensitive to these difficult experiences in order to restore a sense of trust and safety in the therapeutic relationship.
Self Acceptance Therapy
Self-acceptance and self-compassion are often replaced by self-deprecation and self-harm. The Cognitive Behavioral Therapy (CBT) we utilize supports individuals to challenge negative core beliefs and critical self-talk, all of which may have developed through their experiences over time. CBT works to restore self-care and compassionate practices. Dialectical Behavior Therapy (DBT), and in particular distress tolerance skills, encourage healthy coping mechanisms to replace self-harm and increase safety.
Self Awareness Group Therapy
LGBTQ+ clients often bear the intense burden and shame of secrets they feel the need to keep from those who won't accept them as they are. Our self-awareness groups encourage individuals to be aware of shame triggers and "shields" they put up for protection. Groups help a person identify signs they are using these shields, explore their counterproductive nature and learn how to replace shields with healthy coping mechanisms.
Mental Health Recovery
Above all, LGBTQ+ people want a place to feel safe, seen and heard for who they are, not for who others believe they should be. They are often deprived of and crave affirmation and connection with others. Group therapy, which HopeWay provides, is often the kind of healing environment that is most effective when one feels isolated in their personal life. I [Sheri Tiziani] can attest to HopeWay's team of therapists who offer excellent quality of care, genuine compassion, and affirming connection. I [Sheri Tiziani] have witnessed numerous LGBTQ+ clients coming to HopeWay in search of healing and affirmation with amazing outcomes and recoveries back into their lives.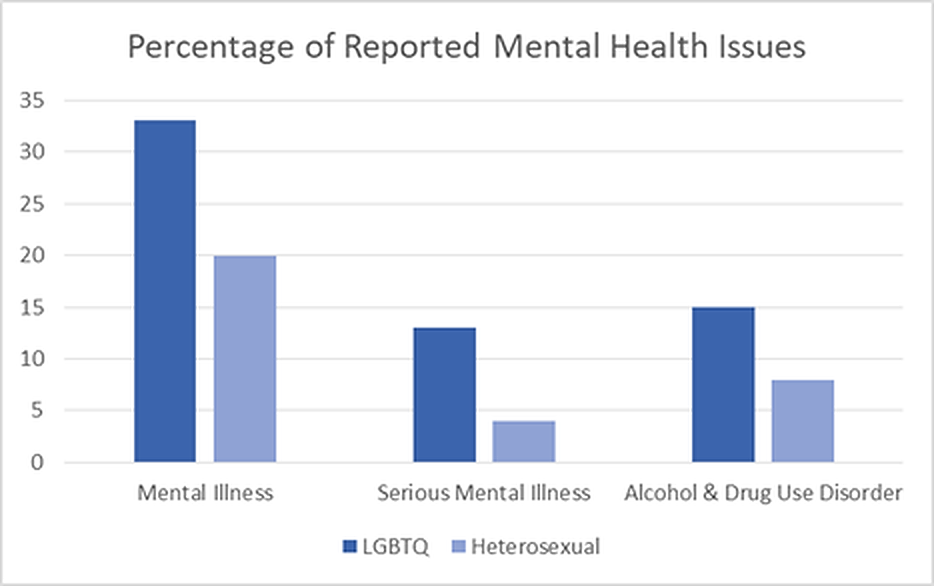 (Medley 2016)
Embracing LGBTQ+ Inclusion
At HopeWay, we are aware of the fear and stigma that can prevent people from getting help. Due to the potential for discrimination and exclusion, that fear is frequently more pronounced in the queer community. In my [Ren Brown] clinical experience, LGBTQ+ clients are often attune to and aware of environments that are either supportive or intolerant, so even small changes can lead to LGBTQ+ clients feeling more accepted. The ideas listed below can make a significant and immediate difference in showcasing support of and dedication to the LGBTQ+ community. Hopeway has adopted many of the ideas below and strives everyday to increase company wide support and inclusivity for the LGBTQ+ community.
The ideas listed below can make a significant and immediate difference in showcasing support of and dedication to the LGBTQ+ community.
Display the LGBTQ+ flag on the front door or within your physical space

Include LGBTQ+ flag on your website

Statement of Inclusivity on website

Include pronouns on name badges and in email signatures

List pronouns the on website's staff page

Shift to gender-neutral language

Embody curiosity vs. assumption
As we all work to create a culture of acceptance, these outward signs of affirmation can have an immediate impact and help negate some of the unique challenges LGBTQ+ individuals face when seeking mental health.
Mental Health Resources:
https://www.vumc.org/lgbtq/lgbtq-focus-mental-health
https://suicidepreventionlifeline.org
LGBTQ+ Resources:
National and local to Charlotte, NC
An organization geared towards helping youth between 11 – 20 years old.
An advocacy and education organization.
An organization that has chapters all over the country offering support, education and advocacy.
A directory of AA & NA groups specific to LGBTQ+ individuals.
A 24/7 crisis line for youth.
An organization providing free peer-support and local resources.
HopeWay's Admission Criteria