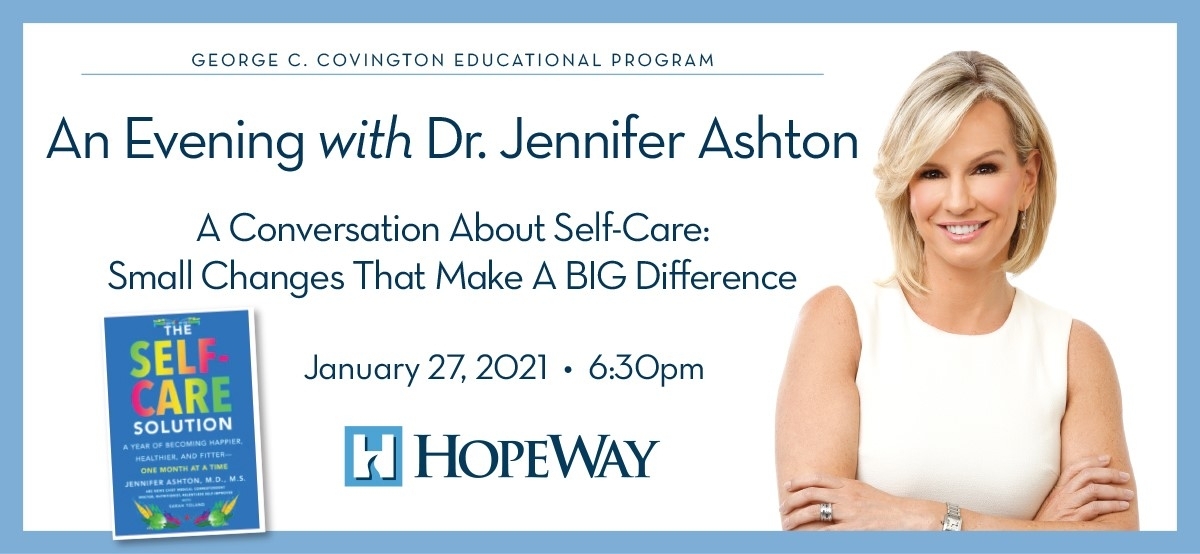 Back to All
An Evening with Dr. Jennifer Ashton | Free Self-Care & Mental Health Discussion
***This event has passed. Please stay tuned for more mental health resources and events from HopeWay!
After careful consideration, we have decided to host the 4th annual George C. Covington Educational Program, An Evening with Dr. Jennifer Ashton, in a virtual format, on Wednesday, January 27, 2021 at 6:30pm EST. We hope you can join us from the comfort of your own home!
HopeWay is excited to present an interactive conversation with Dr. Jennifer Ashton, Chief Medical Correspondent for ABC News and Dr. Alyson Kuroski-Mazzei, HopeWay's CEO & Chief Medical Officer on the importance of wellness and self-improvement in the midst of a pandemic. In Dr. Ashton's best-selling book, The Self-Care Solution, which came out at the end of 2019, she offers a year-long plan to improve your emotional and physical health – from giving up alcohol to doing a digital detox, but each for only one month. Using her own experience & the science behind why, her research will guide us on how to lead a better, healthier and fuller life.
Over the past several months, she has worked to adapt this plan to fit our "new normal" since self-care and mental wellness are now more important than ever. While Dr. Ashton's face is familiar to many, especially now, this interactive event will shed light on the important topic of self-care as we enter a new year with continued unknowns ahead.
Dr. Ashton is the author of five books and a 3-time Emmy award winner. Her best-selling book, "Life After Suicide: Finding Courage, Comfort and Community After Unthinkable Loss", offers support, advice, hope and what it takes to heal. She is a graduate of Columbia University where she received her undergraduate, medical and Master's of Science degrees. She is a board-certified Ob-Gyn and one of the few physicians with media platforms who still sees patients. Through her medical training, professional work and personal experience, Dr. Ashton understands the importance of living physically and mentally well.
A part of HopeWay's mission is to provide education and awareness to the community and due to the generosity of our event sponsors, we are offering this event free to the public. We hope you to take a minute to join this pertinent conversation about self-care and personal growth during a time of challenge and change, while supporting extraordinary mental health care.