Mental Health Education
We believe clients and their families will best be served if, as a community, we talk about and learn about mental illness.
Part of HopeWay's vision is to "build awareness and acceptance through education." Central to fulfilling this part of our vision is the George C. Covington Library and Learning Fund established for HopeWay by George's family and friends.
The Covington Library and Learning Fund supports our holistic approach to health care for clients in our programs by providing easy access to education about mental illness and recovery. The Learning Fund allows us to provide valuable educational events that broadens the scope of impact into the larger community. The Covington Learning Fund provides critical resources to support ongoing community outreach, awareness, and help end stigmas associated with mental illness.
Every year we host a Covington Educational Event. In 2021, we welcomed Dr. Jennifer Ashton to campus to speak about her best-selling book, The Self-Care Solution. We had about 2,000 people tune in virtually to join the conversation.
In the past, we have hosted other renowned guest speakers, such as suicide attempt survivor Kevin Hines and counselor/stand-up comedian David Granirer.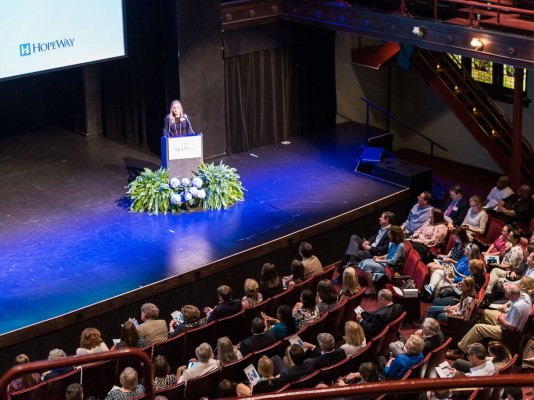 At HopeWay, we are working with community partners to educate the community and reduce the stigma associated with mental illnesses. We believe that it is crucial to start talking about mental health issues as brain diseases. These illnesses affect one in four families, and the community needs similar support to what is given to people living with cancer, diabetes or any other chronic medical issue.
Events
In addition to our annual Covington event, we host a variety of educational workshops at HopeWay. These can be smaller, more intimate events for clients and families, or designed to provide topical education for providers in our community. Our goal is to provide information and resources for those in need. For a list of events throughout our community, click HERE.
HopeWay is an education leader and an advocate in our community. We strive to increase understanding, awareness and acceptance of the diagnosis and treatment of mental illness.
Are you interested in collaborating with HopeWay to provide an educational event about mental illness? Contact Dr. Tom Gettelman.