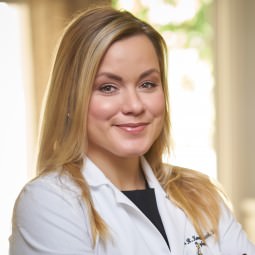 Alyson R. Kuroski-Mazzei, DO, MRO, DFAPA, FASAM
CEO & Chief Medical Officer
Credentials
Duke University, Psychiatry Residency Program
University of North Carolina at Chapel Hill, Forensic Psychiatry Residency Program
Midwestern University, Doctor of Osteopathic Medicine
Benedictine University, BS in Health Sciences
Board Certifications
General Psychiatry
Forensic Psychiatry
Addiction Medicine
After earning her Bachelor of Science degree from Benedictine University and medical degree from Midwestern University, she completed her general psychiatry residency training at Duke University and forensic psychiatry residency at UNC-Chapel Hill. She maintains her academic appointments with both Duke University Department of Psychiatry and Behavioral Sciences and the UNC School of Medicine. She is triple board certified in psychiatry, forensic psychiatry and addiction medicine.
In 2006, she founded the Forensic Psychiatry Program & Clinic at the University of North Carolina School of Medicine in Chapel Hill and served as the Director and Director of Training. She has continued her national forensic psychiatry work through the UNC-Chapel Hill Psychiatry Department for the past several years. Among other leadership positions, Dr. Kuroski-Mazzei has served as the Medical Director of Quality at Cone Health Behavioral Health Hospital, the Medical Director of Fellowship Hall, a specialty hospital for alcohol and drug addiction treatment, and the Medical Director of the San Diego Professional Group in Southern California.
She has held leadership positions for the American Academy of Psychiatry and the Law, North Carolina Psychiatric Association, Duke University Medical Center, Chicago College of Osteopathic Medicine and Illinois State Osteopathic Medical Society. Dr. Kuroski-Mazzei's medical and legal research has also been published in leading professional and academic books and peer-reviewed journals. She currently serves on the Executive Board of the North Carolina Psychiatric Association (NCPA) as President Elect and serves on both the Membership Committee and Program Committee for the 2021 Annual Meeting. Additionally, she is a Distinguished Fellow of the American Psychiatric Association (DFAPA) and a Medical Review Officer (MRO).
Dr. Kuroski-Mazzei is an expert in and enjoys working with women's health issues, mood disorders including Bipolar Disorder, substance use disorders and complex psychopharmacology. With her background in forensic psychiatry, she is also an expert in completing suicide and violence risk assessments. Lastly, her main focus for her practice is to diagnose and treat all relevant psychiatric, medical and addiction issues in order to lead to sustainable wellness and recovery.
Dr. Kuroski-Mazzei and her husband, Paul, have two sons. She prides herself on being a strong mother, wife and physician who successfully balances her personal and professional life. Her passion for returning to North Carolina to join HopeWay stems from personal family experience with mental health challenges that can, when treated effectively, lead one through recovery to complete personal and professional success.
Back to All