Recreational Therapy
HopeWay's licensed Recreational Therapist works with clients to explore healthy leisure activities, positive and productive social interactions, as well as community re-integration.
What is Recreational Therapy?
Recreational therapy is a therapeutic treatment process, typically practiced in a group setting, that is designed to restore, remediate and enhance a person's functioning while fostering independence in life activities. Through the use of leisure activities and education, recreation therapy promotes stress management, healthy coping skills, healthy social skills, and increased self-esteem.
Recreational therapy structures groups based on the six dimensions of wellness:
Emotional
Intellectual
Physical
Spiritual
Social
Vocational
Our Recreational Therapy program promotes health and wellness as well as reduces or eliminates activity limitations. Clients are encouraged to utilize the gym, engage in team activities, and participate in group discussions about healthy living.
As an example, yoga is a commonly enjoyed leisure activity available to most people in their community. Yoga promotes physical health while also providing a type of meditative and spiritual activity. At HopeWay, many clients try yoga for the first time. Prior to entering treatment, yoga may not have held interest for a person or it may have seemed out of reach or inaccessible. At HopeWay, yoga provides an opportunity for clients to gently re-engage with their bodies through deep breathing, mindfulness meditation, muscle relaxation and physical activity.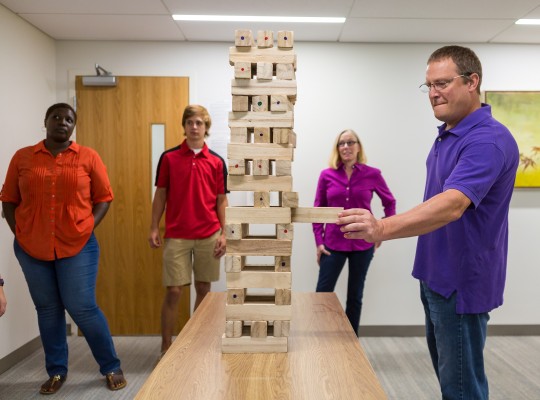 "From an observer standpoint, recreation therapy might look like a lot of fun and games; however, each rec therapy activity is geared towards achieving a specific goal related to the overarching treatment goals of the client. For example, a group engaging in the game, Headbands, is actually a deeper conversation on the importance of social skills and appropriate communication skills."
- Diana, Recreational Therapist
"Leigh, the Recreation Therapist, was very helpful with aftercare planning. She met with me individually to plan and sign up for different activities in my home town. She also helped me plan for time management for once I left. She helped keep me accountable and was very supportive." - Kim
"Leigh was an incredible help in my aftercare planning, she gave me any resource I needed and helped me setting up appointments and activities that made entering the world so much easier. She showed me how vital it was to have things to do after you transition so you don't go from HopeWay 7 days a week to nothing. I can not sing her praises enough!" - Adam
Learn more about our recreational therapy at HopeWay.
If you are in crisis, please call the Suicide Prevention Lifeline