Horticultural Therapy
The main educational goal of the horticultural therapy program is to offer clients knowledge that will allow them to transfer skills from HopeWay to home, such as stress reduction, increased mindfulness, improved self-care and social skills
What is Horticultural Therapy?
The practice of horticultural therapy uses plants, gardens, and nature-based activities to promote well-being. Its practice is an effective, evidence-based therapeutic modality similar to music, art, recreation and other experiential therapies.
Horticultural therapists assess emotional well-being, social functioning, communication abilities, cognitive and physical abilities, and horticultural interest. In collaboration with the interdisciplinary treatment team, horticultural therapists design treatment programs to address specific goals. Individual and group sessions give clients an expressive option that differs from traditional talk therapy. Hands-on activities help them reconnect to the natural world, experience feelings of purpose and success, and develop practical skills that can be utilized to maintain treatment gains.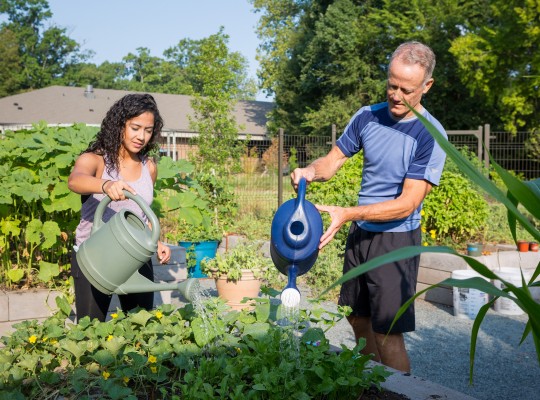 "Horticultural therapy has been a part of therapeutic programming at HopeWay since its inception. Along with beautifully landscaped green spaces and a nature walk through towering pines and deciduous trees, HopeWay's campus houses a greenhouse and 8 large raised garden beds. Our horticultural therapist works to design programming that will encourage clients to engage in all of these spaces. Groups can often be found exploring the campus in search of natural materials to be used in projects such as fall wreaths and floral arrangements for the on-site cafeteria.
Every therapeutic group at HopeWay engages in horticultural therapy activities on a regular basis. While most therapeutic sessions are group based, individual sessions are available to clients upon request. Group activities vary according to the needs and interests of clients. The main educational goal of the horticultural therapy program is to offer clients knowledge that will allow them to transfer skills from HopeWay to home. Therapeutic goals include stress reduction, increased mindfulness, improved self-care and social skills, as well as instilling a sense of hope for the future."
- Bobbie, Horticultural Therapist
The Benefits of Horticultural Therapy
Learn more about our horticultural therapy at HopeWay.
If you are in crisis, please call the Suicide Prevention Lifeline