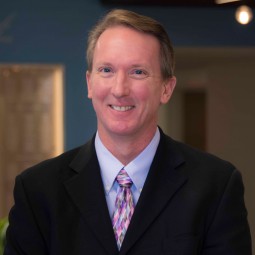 Tom Gettelman, PhD
Chief Clinical Officer
Credentials
University of Wisconsin-Milwaukee, BS, MA

University of South Florida, PhD
Dr. Tom Gettelman joined HopeWay in June 2016 after nearly 24 years of providing clinical and administrative leadership to behavioral health services within Carolinas Healthcare System (CHS). Tom oversees the Clinical Department.
Dr. Gettelman began his career with CHS as a staff psychologist on the child/adolescent inpatient unit at Behavioral Health Charlotte and rapidly moved into clinical leadership roles after becoming the Director of the Willows campus in 1996. Facilities on this campus provided residential treatment, partial hospitalization, and intensive outpatient services for children and adolescents. Returning to the Behavioral Health Charlotte campus in 2000, Dr. Gettelman continued to provide clinical and administrative leadership to a wide variety of behavioral health programs serving both youth and adults.
Prior to joining HopeWay, Dr. Gettelman served as the Vice-President and Facility Executive of the Mindy Ellen Levine Behavioral Health Center in Davidson. The team's innovative approach to treatment and a singularly unique clinical staffing model led to exceptional quality of care and national recognition.
Dr. Gettelman received his bachelor's degree in psychology from the University of Wisconsin-Milwaukee and his Doctorate degree in clinical psychology from the University of South Florida.
Additionally, Dr. Gettelman was the Mecklenburg County representative for mental health on the North Carolina Commission for Mental Health, Substance Abuse, and Developmental Disability from 2008 - 2011. He is a past board member of the Lake Norman Chamber of Commerce and currently serves on the board of Davidson Lifeline, a community action and education group promoting suicide prevention and mental wellness. He also serves on the Governance Committee for the Teen Health Connection while maintaining his current role as the Chief Clinical Officer & Director of Admissions for HopeWay.
Back to All