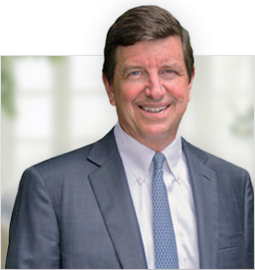 William F. Blue Jr.
Board Chair
William F. (Bill) Blue, Jr. is the co-founder and Board Chair of the HopeWay Foundation. Bill assumed this role in 2014 after retiring as Vice Chairman of Investment Banking and Capital Markets for Wells Fargo Securities.
Bill has extensive experience in leading non-profit organizations having served as Board Chair of Habitat for Humanity of Charlotte and Charlotte Country Day School. Bill also has served as Senior Warden of Christ Church. He is a former board member of the Jefferson Scholars Foundation, the University of Virginia Alumni Association, and YMCA Camp Thunderbird.
Throughout his thirty year banking career, Bill represented foreign and domestic corporations in financing and advisory assignments. Prior to joining Wells Fargo, Bill served as the group head of the Wachovia Consumer and Retail Investment Banking group. Before joining Wachovia, Bill was a Managing Director in the Mergers and Acquisitions group of NationsBanc Montgomery Securities.
In addition to HopeWay, Bill currently serves on a variety of corporate and non-profit boards.
Bill earned a B.A. in English and History and an M.B.A. from the University of Virginia.
Bill was born in Charlottesville, Va., and grew up in Baltimore. He and his wife Betsy (co-founder and emeritus director of HopeWay) live in Charlotte.
Back to All