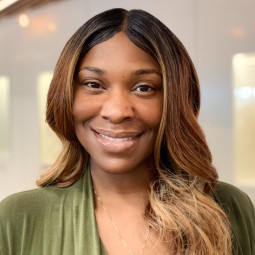 Kenya Anderson, LCSWA
Part-Time Primary Therapist
Credentials
University of Maryland University College, BS
University of North Carolina at Charlotte, Masters of Social Work
Kenya Anderson is an Air Force Veteran with eight years of experience in the criminal justice and criminal investigator field. Never one to neglect her roots, she uses her past experiences to mentor Veterans transitioning from military to civilian life. She has assisted Veterans through what can be a very fearful time of change by providing career planning and benefits counseling as a Veteran Service Representative at the Department of Veterans Affairs.
As a Master of Social Work student, she interned with the Department of Social Services, the Department of Veterans Affairs and Quality Comprehensive Health Care. These opportunities included collaboration with interdisciplinary teams, case management, resource referral, and incorporating evidence-based therapies to achieve the best results for the client's physical, mental and emotional health.
Kenya earned her Bachelor of Science in Criminal Justice from the University of Maryland University College and her Masters in Social Work at the University of North Carolina at Charlotte. Kenya is not only passionate about Veterans mental health, but also focuses her time on issues related to equity and social justice.
Back to All